Manufacturer: AmeriGlide OEM Code: EPL[400][600][800][1000][1200][1400]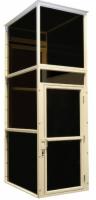 Quick Stats
Lifting Capacity

:

750 lb

Standard Lift Height

:

53"

Maximum Lift Height

:

171"

Arrives Assembled

:

No

Standard Drive System

:

Belt driven ball screw/90 VDC 1/3 hp motor with brake.

Battery Powered Option

:

Yes

Constant Pressure Platform Controls

:

Yes

Emergency Stop Platform Control

:

Included

Alarm Button

:

Included, Optional Lighted Button

Keyed Controls

:

Optional

Call-Send Controls

:

(2) Non-Keyed

Keyed Call-Send Controls

:

Keyed, Wireless

Platform Type

:

Solid with Non-Skid Coating

Standard Platform Size

:

36" x 60" (34" Usuable)

Optional Platform Sizes

:

42"x 54" (34" Usable), 42" x 60" (40" Usable)

Standard Platform Configuration

:

Straight-Thru Access

Guard Panel

:

42"

Lift Speed (FPM)

:

10

Portable

:

no
Documents
The Enclosed Platform Lift has the same capabilities as an elevator while offering some distinct advantages over similar options. All of our vertical platform lifts are designed to be easy to install and virtually maintenance free. They are also a great option because they leave a much smaller footprint than traditional residential elevators.
This specific model features a steel frame and fully enclosed shaft made of see-through acrylic panels, making it a great choice for outdoor installation although many customers appreciate the neat and clean look it provides within their homes as well.
With a long list of optional features, you can customize your enclosed platform lift to fit all your needs. Choose the right platform size to enjoy a perfect fit for you and your mobility device and customize the look of your lift to fit your home's décor with our long list of available custom colors.
Getting started is as easy as placing a call! Contact us today to learn more about your options and how easy it can be to measure for and install your Enclosed Platform Lift.

Product Reviews