Manufacturer: OEM Code: AMGVIC2I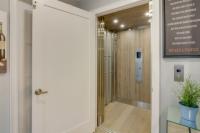 Quick Stats
Applications

:

Indoor Residential

Capacity

:

950 lb

Maximum Travel Distance

:

50'

Cab Dimensions (standard)

:

36x36 (inline only) / 36x48 / 36x60

Cab Dimensions (optional)

:

Up to 15 ft sq / 90 degree requires 38" width

Speed (per minute)

:

40'

Minimum Overhead Required

:

106"

Drive

:

Winding Drum

Motor/Pump

:

3 HP

Warranty

:

24 Month limited warranty on parts and labor from the date of purchase

Cab Heights

:

84"

Max Landings

:

4

Power Requirement

:

220V 1Ph, or 208 V 3Ph

Pit Depth

:

10 inches

Safety

:

Emergency Lighting, Emergency Lowering with DC Backup, Emergency Stop Alarm, Door Interlock
Documents
If you're looking for a high-quality elevator that will blend in seamlessly with your home, we have the elevator for you! The Victorian Residential Elevator is equipped with a winding drum system that offers a smooth and comfortable ride up and down the levels of your home. With its wide range of cab styles, wood finishes, door systems, fixtures and designs, the Victorian can be truly custom-built to your style.

If you cannot manage the stairs any longer but do not want to move out of the home you love, the Victorian will give you the freedom to be independent and access all levels of your home, safely.

Give us a call and discover the peace of mind you deserve!



Product Reviews