Manufacturer: AmeriGlide OEM Code: ODE-500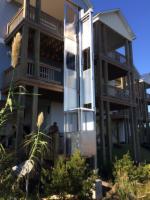 Quick Stats
Applications

:

Outdoor and High Humidity Environments

Capacity

:

500 lb

Cab Dimensions (standard)

:

32" W x 48" D

Speed (per minute)

:

24'

Drive

:

Winding Drum

Motor/Pump

:

Industrial Duty Gearmotor (no machine room)

Type

:

Constant Pressure Operation

Max Landings

:

3

Overhead Clearance Required

:

Top of Car at Top Landing

Power Requirement

:

110 VAC, Plug N' Play Wiring

Pit Depth

:

6"

Safety

:

Type "A" Instant Safeties, Meets ASME A18.1
Documents
The Outdoor Elevator is unlike anything on the market today! A fully welded, all aluminum uni-body design makes it the most durable, weather resistance vertical platform lift on the market! Short lead times and an easy installation process means creating access to your multi-story home is a quick, easy process!

Adding to the durability of The Outdoor VPL-Elevator is a 160 MPH* engineered wind load rating! 500 or 750 lb Capacity 14′ Max Travel 24 FPM Travel Speed Optional Top and Side Enclosures Constant Pressure Operation Pass Through or Enter Exit Same Side 36 x 48 or 36 x 54 Car Sizes

If you are in the market for a top-of-the-line Vertical Platform Lift that meets elevator code AND is truly weather resistant, we would like the opportunity to provide you with a complimentary quote and more detailed information.

* Engineered wind load rating details are available upon request. Proper anchoring configuration is required for 160 mph winds.
Installation and permits are not included in the price.

Product Reviews